From 07/22/17 5:00 am until 07/22/17 3:00 pm
Updated info Coming Soon. Everything above/below is incorrect including times!


New Registration process 
1) Login if you have an account.  Click "Join" at the top left of this Event Page
2) Fill out the required information (as normal). The only difference on the registration page now is that you need to enter '1' for the ticket you wish to purchase.
3) To select Shirt Size enter "1" under the Shirt size you wish to receive.  Only select one size, or you may not receive the size desired.  If you wish to purchase additional shirts, you must email the Tourney Director before July 17th.
4) When you are done, click submit at the bottom of the page
5) You should be redirected to the payment page where you can pay using your Paypal account or Credit Card.
EARLY BIRD SPECIAL (SHIRT COLOR SHOWN MAY CHANGE):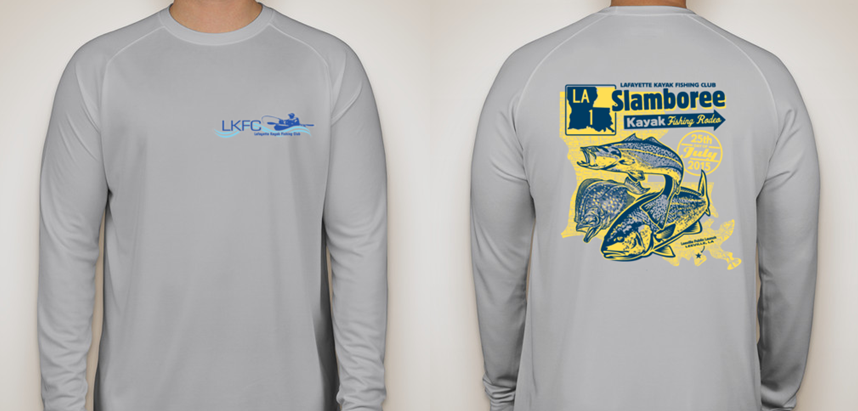 In order to receive a  Long Sleeve Dri-Fit Tournament shirt, you must sign-up on or before July 17th. 
There will be a donation box set up at the weigh-in for Launch Leeville & Friends of Grand Isle (FOGI) kayak launch to help support the local fishing community!
OVERVIEW
Join us Saturday, July 30th at Top Water Marina for the LA 1 Slamboree sponsored by Pack & Paddle, Duce Rods, Academy, Buggs Fishing, H&H lures, Iberia Rod & Gun Club, Cajun Brewing, Rayne Sign, Griffin's Marina & Ice, Fish the Bayou, Legend Cartography, and K2 coolers. Participation is open to the public.
REDFISH, TROUT, & FLOUNDER "SLAM" STRINGER - Heaviest stringer shall consist of a maximum of 1 each: Slot Redfish (16" min. and UNDER 27"), Speckled Trout (12" min), and Flounder (12" min). Catch all 3 species and receive a 2lb bonus to the total string weight.
LEOPARD REDFISH (included in entry fee) - Slot Redfish with the most spots (counting both sides) wins a Pack & Paddle Gift Card (prize value based on the number of tournament entries).  See Rules below.
OPTIONAL CALCUTTA ($5): Heaviest Speckled Trout wins pot.  This is a separate "Optional" category, so you CANNOT use this fish in your Slam Stringer.
LKFC CAJUN KAYAK ANGLER SERIES
The LA1 Slamboree is the 3rd of 6 events as part of the Cajun Kayak Angler Series. Earn and accrue points for weighing fish & win big prizes or cash. The Angler of the Year wins a Hobie Outback, compliments of Pack & Paddle and Hobie.
Learn More...
EVENT RULES
It is every angler's responsibility to understand and abide by all rules listed here.  Additionally, all "Series Rules" apply and must be 
read here
.
ENTRY:
With Tournament Shirt = $40 (+ $1.75 via PayPal) Must Register on or before July 17th to receive shirt with Entry
Without Tournament Shirt = $25 (+$1.25 via PayPal) Entries after July 17th
$17 to Tournament Payout
$6 to AOY Series & Club Fund
$2 to Leopard Redfish Category
$15 to Long Sleeve Dri-Fit Tournament T-shirt for Early Bird Registration ONLY (on or before July 17th).  After the Early Bird cut-off date, the $15 shirt option will be removed and no longer available for purchase.
OPTIONAL CALCUTTA: $5 entry into side pot for Heaviest Speckled Trout. Winner takes the entire side pot. If you wish to participate in the Optional Calcutta, you must sign-up for the Calcutta at the same time you sign-up for your single tournament entry.
REGISTRATION: Open to public until Thurs. July 28, 2:00PM.
WAIVER:
By registering for this event you agree to the LKFC waiver/release of liability
waiver...READ ME
LEGAL LAUNCH / FISHING TIME: 5:00 a.m. (you may launch and stage in the immediate area before 5:00 am, but may not depart or cast until 5:00 a.m.)  Please be courteous and DO NOT BLOCK LAUNCHES.
SAFETY: It is every anglers responsibility to navigate their vessel in a safe manner and abide by all LDWF rules and regulations.  A Coast Guard approved PFD shall be worn at all times while navigating your vessel.  YOU are responsible for displaying lights for your safety...BE SEEN!
ACCEPTABLE CRAFT: Human powered kayaks and canoes only. No trolling motors or mother-shipping allowed
ACCEPTABLE TACKLE: Artificial Tackle Only
LEGAL FISHING TIME: 5 a.m. - 3 p.m.
SIGN-IN: Anglers must sign-in before 3 p.m. at Top Water Marina in Leeville.  In the event of a tie, the angler who signs in first will be considered the winner.
WEIGH-IN: Top Water Marina in Leeville, LA - starting @ 3 PM SHARP. No culling at the weigh table. Have your fish ready to weigh when called upon. You must weigh-in fish to receive series points.
LEGAL STRINGER: Calculated by the total weight of up to 3 species. The 3 fish allowed are: Slot Redfish (16" min and UNDER 27") / Speckled Trout (12" min) / Flounder (12" min) 1 max of each species. Anglers who weigh all 3 (1 Red, 1 Trout, 1 Founder) are rewarded with a 2# bonus added to their weight. Anglers who weigh less than 3 do not receive the bonus. Here are 2 examples:
Total Weight: 3+4+1+2# Bonus= 10#
1) SPECKLED TROUT (or Flounder): 5
*Weighing illegal fish (in accordance with Louisiana Wild Life and Fisheries Laws) will result in DQ.
LEOPARD REDFISH:
 The Slot Redfish with the most spots (counting both sides) wins.
Must be a Slot Redfish and you CAN use this redfish in your Heavy Stringer (but you are not required to).
The number of prizes given will be dependent on the number of entrants: 50 entrants or less - 1st place only, 51-100 - Top 2 (70/30), and over 100 - Top 3 (50/30/20).
If any angler places in both the Heavy Stringer Category and the Leopard Redfish Category, the angler has the choice of either taking the cash prize for the Heavy Stringer Category or the Pack & Paddle gift card for the Leopard Redfish Category (angler cannot win in both categories).  However, if the angler opts for the Pack & Paddle gift card for the Leopard Redfish prize, the angler will still receive their Series Points for their place in the Heavy String Category (if they are an "Active" LKFC Member).  The options will be presented to the angler after the final results are tallied and before awards presented.  Based on the decision, the cash payouts or gift cards will be adjusted accordingly to the next angler who placed in the category.  Therefore, make sure to register your leopard redfish with the weigh-master even if a redfish with more spots has already been "weighed-in".
PAYOUTS: Cash
Top 3 w/ < 40 anglers (the following percentages: 50 / 30 / 20)
Top 5 w/ 40+ anglers (the following percentages: 40 / 27.5 / 17.5 / 10 / 5)
Top 10 w/ >125 anglers (the following percentages: 30 / 23 / 16 / 10 / 6 / 4 / 3.5 / 3 / 2.5 / 2)
DOOR PRIZE DRAWINGS: Anglers must be present at the weigh-in to win a Door Prize. If an angler places in the money for the tournament, then he/she is not eligible for door prizes. Prizes include: TBC ...Buggs Fishing Lure package, Academy Gift Cards, H&H Bait bags, Folding Filet knife, K2 cooler, LA Geaux Card (http://www.legendcartography.com/louisiana-geaux-card.html), and 2 Duce Rods!